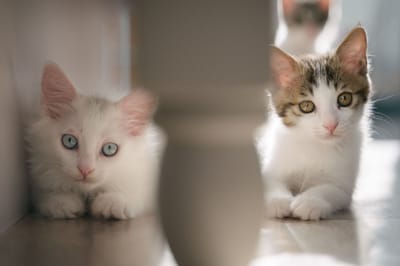 *Focus Play Aggression - Having a friend means they can take out their play aggression on one another (instead of on you.) They'll also teach each other good boundaries about biting and scratching.
*Entertain & Enrich - When your kitty has a buddy, they'll always be entertained, active, and enriched. And a happy cat makes a happy home!
*Keep Out of Trouble - One mischievous kitten can be destructive if left alone, but two kittens tend to keep each other occupied and out of trouble.
*Easier Intro to Adult Cat - If you have an adult cat at home, two new kittens may be easier to introduce into your family than one. While one kitten may nag an older cat, two kittens will keep each other company while the older cat watches from a distance.
*Comfort in Friendship - Having a pal will help your kitten settle into a new home. Just like humans, kittens have an easier time feeling comfortable trying something new if they've got a friend to do it with them.
All of our animals are up to date on shots, spayed/neutered and healthy at the time of adoption and no cat is listed for adoption before they are a "certified lap cat!"